Lot Sweeping Services by Danny and Matt's Lawn and Lot Service in Princeton and Zimmerman, MN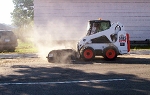 Lot Sweeping:
Let Danny and Matt's Lawn and Lot Service keep your lot clean and safe for your clients and employees. We use both a Bobcat sweeper for time efficiency and a self propelled sweeper to get those difficult and smaller areas. All of this done in a professional manner and in an efficient time, which means savings for you. Call us today for your free estimate.



Our business is licensed, insured and we are an active member of the Princeton, MN community.

Please call us right away and we will be happy to give you a free estimate on lawn and lot services for your property.
763-370-8132 or 763-772-6782
Please click below for more information on your specific MN Lawn and Lot care service desired.
Snow Removal
Grading and Leveling
Spreading
Lawn Maintenance
Tear-ups
Seeding and Fertilizing
Lot Sweeping
Landscaping